What Is The Best Electric Combi Boiler UK?
If your thinking of getting a new electric combi boiler please read on as we have some helpful tips to help you decide on the best electric combi boiler to go for.  
We hope this article on electric combi boilers will also highlight whether an electric combi boiler is right for you, or whether another option would suit you better.  If you have no mains gas there are other options such as LPG and Oil, but in general you need quite a lot of space for these options and you only usually come across them in large rural homes.  
If you live in Essex or the south east and you want a new electrical combi boiler supplied and installed by an expert specialist company please let us know, we would be more than happy to give you a free quote.
All About Electric Combi Boilers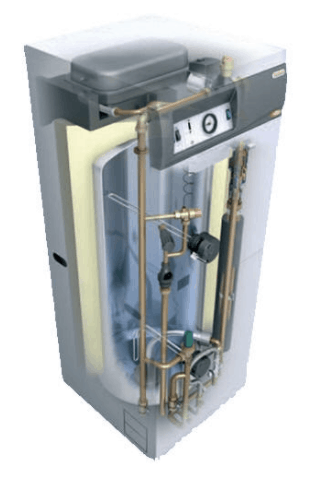 Whats In A Electric Combi Boiler?
Electric combi boilers are usually a combination of an electric flow boiler with a hot water storage cylinder and a pre-plumbed, factory fitted circulating pump all presented in a nice neat casing.
The same out come can be achieved by using an electric flow boiler and unvented cylinder.  However this can be more labour intensive and take up more space.
Electric combi boilers can be installed on sealed systems and produce mains pressure hot water.  Their design usually allows them to fit neatly in to most domestic airing cupboards.
Why Should I Choose An Electric Combi Boiler?
Not everyboday has mains gas piped to their home.  With other sulutions such as LPG and Oil taking up lots of space, often an electric combi boiler is the best option for heating and hotwater needs.  Electric combi boilers can also be used in conjunction with renewable energy sources such as solar PV of people looking to live completely of grid.
These considerations may determine whether a electric combi boiler may be for you.
Do you have mains gas piped to your property?  Gas is still the most efficient non renewable heat source. 
Can you get a flue for a gas boiler to an outside wall.  We have found a lot of flats built in the 90's and 00's have twin flued gas boilers  installed, with flues in the ceiling.  This is no longer within regulations.  So switching to a electric combi boiler is often the solution. 
No space for LPG or Oil tanks.  To get the correct clearances for these types of fuel storage you need quite a bit of space.  Its certainly not viable in most flats.
Not enough space for a flow boiler and cylinder.  Sometimes you may only have a small airing cupboard to get your electric combi into.  A neat compact solution may be for you.
Best Electric Combi What To Look For?
There are many electric combi boilers on the market and it can be a bit of a mine field.  For that reason I would recommend you look for the following qualities in any potential new electric combi boiler.
Good customer support in the UK.  This for us is the most important thing of all and trust us we have learned the hard way.  There are a lot of electric combi retailers in this country who sell them on behalf of a company in another country.  They are meant to offer support for the product but in truth they are not set up for it.  If you ever get a problem it can be a nightmare to resolve!  I would suggest sticking to well known established manufacturers such as Heatrae Sadia.  
A good manufacturers warranty.  Manufacturers often advertise long warranties, but what does it actually cover?  Make sure the warranty covers parts and labour, as some of these for mentioned internet "middle man" companies only cover the parts you then have to pay for an engineer to replace the parts.  They often try and wiggle out of their obligations also.  Again stick to companies like Heatrae Sadia, established with good customer support.
Enough hot water capacity.  Some of the electric combi boilers we have seen have a laughable hot water capability.  As they generally work on the stored hot water priceable, it is best to 40-60 litres of hot water per person using it.  Otherwise some could be having a cold shower in the morning!
What Electrical Supply Do I Need For An Electric Combi Boiler?
Electric combi Boilers usually range from 6-12kw in domestic properties.   This means they need a large power supply installed by a qualified electrician.  We always recommend you use a company qualified for the electrical part of the job as well as the plumbing.  A company just like us Boilers 4 Essex.  If you try and piece together a plumber from here and a electrician from there, no really takes responsibility for the job as a whole and problems inevitably follow.  We as a company have to clear up the mess of others on more than a few occasions.
In most case a 10mm twin and earth circuit with a 50amp mcb at the fuseboard / consumer unit is required.  Of course as with all new circuits it must be RCD protected. If you don' have enough room on your current fuseboard for na new circuit don't worry, we can split the incoming supply and fit an additional board.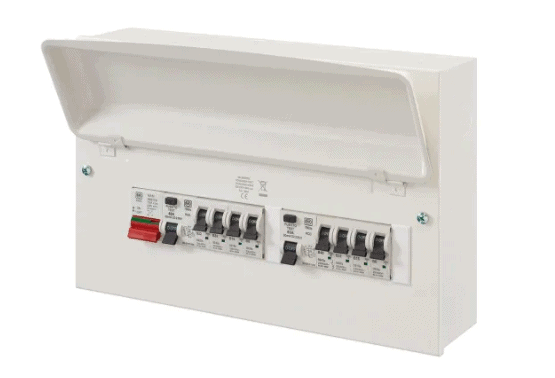 Our Recomended Electric Combi Boiler.
Heatrae Sadia Electromax
COMBINED ELECTRIC FLOW BOILER AND DIRECT UNVENTED HOT WATER CYLINDER.
Electromax is the combination of an electric flow boiler with a hot water storage cylinder and a pre-plumbed, factory fitted circulating pump. Electromax can provide wet central heating and a hot water supply, both at the same time if required, with only a mains electrical connection and cold water supply needed. The integral duplex stainless steel unvented cylinder has a 180 litre capacity, delivering mains pressure showering, fast filling baths and a balanced supply to multiple tap outlets. Electromax is designed for sealed systems and is compact in size, easily fitting into a standard domestic airing cupboard and is available in two domestic kW sizes.
Electromax Features:
Underfloor and radiator boiler models available.
Combined package of boiler and unvented cylinder.
99.8% boiler efficiency and integrated economy controller.
TP5000 and TP9000 controllers provided.
Electromax Benefits:
Flexibility of heating system specified.
Ease of installation provided through factory fitted components and combined product.
High energy efficiency and money saving integration through use of economy tariffs.
Provides end user comfort.
Neat airing cupboard fit.